Drift Trike Electrified!
Tag along on my journey electrifying this Triad Drift Trike with an e-bike motor and battery pack. You'll also get to hear about my experience as a first time noob MIG welding.
When I first got the drift trike, it was really just for myself and my son to scoot around on. With few hills and no access to those mountainous roads you see in most videos made the fun became more of a workout – which I already get from mountain biking. So, when I came across a dead e-bike motor, the synapses started to fire figuring I could bring it back to life and convert this trike. After a bit of rust cleaning, and wire tracing, I figured the motor core and Hall sensors were still good and made the assumption that the controller was fried.
Since the controller was covered in protective goop, I couldn't do much testing and the bits were proprietary. Instead I took a gamble and bought an 3 phase motor controller to get this sucker working.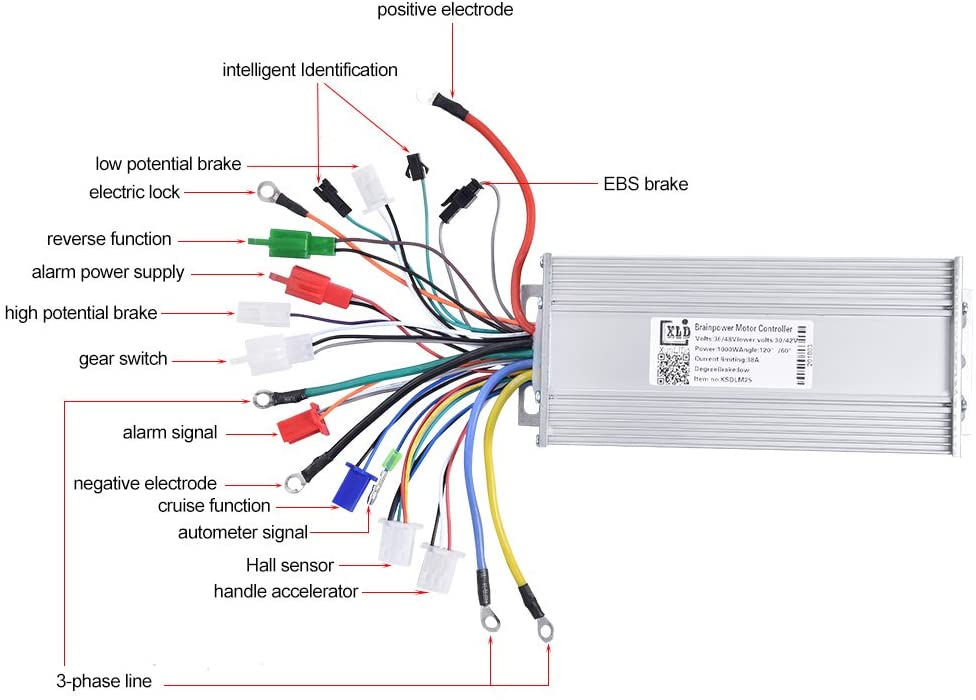 The controller (XLD Brainpower) had good reviews and was spec'd to work well with this motor. 36/48V auto-sensing, 1000W (motor is a very capable 1200W beast). It came with most of the standard e-bike connectors. However, for this build, I'm only using throttle, 3-speed control, power, hall sensors, and the electric lock (for on-off / safety). The trike itself already has brakes and the plan was to have it freewheel to allow it to coast.
I managed to grab a deal on an iGO e-bike 48V 13ah 624wh battery via Kijiji, so that solved the power challenge. Above you can see the 3D printed mounts (green) to mount the battery to the trike frame. To the left is a master power switch mounted inside a 3D printed end cap.
The next challenge is to mount a set of used go-kart wheels I picked up on the cheap. I'm using a 3/4″ keyed shaft. I struggled for weeks on how to interface the 3-bolt kart wheel to the keyed shaft. What I didn't realize is I had all the bits necessary from a recent Princess auto order. I had a keyed hub as well as a pair of weld-on sprockets I had earlier been planning to use for the drive system. With a bit of grinding these 20T units fit nicely into the hub shells (below). Then I welded them to the keyed hubs designed for the shaft unit.
Speaking of welds. It's probably a good time to point out that I've never welded before, so I'm happy to entertain the pro's out there with the horrid quality of what you are about to see. Some of it looks more like the welds came out of a paintball gun. I am also fully aware that there's some risk here, but I don't expect to use the trike anywhere other than parking lots and the court where I live.
Sept 2020 Update:
The rear triangle structure is complete. Mounted the axle via pillow block bearings. I was struggling with how to mate the 5 speed cassette (which freewheels) to the axle via the weld-on hub (see pics below). I needed to make sure the trike had way to coast when I backed off the throttle. Originally I had expected the cassette would take care of this as I wasn't sure how else to do it. I was waiting for some parts from the motor – notably a drive gear. After receiving it, I found out that it has a built-in one way bearing, so this solved my freewheeling issue and meant I no longer needed the cassette for this. Which was a challenge as I was struggling to mate the cassette with the weld on hub (didn't want to weld it originally).
Since the weld-on hub inner side was a close fit to the threaded part of the cassette (see below), I was hoping to have some threads cut. Finding a machine shop was a challenge, so I decided to weld it on knowing it would melt the free-hub together since the space was so tight. Since I already had freewheeling, this was no longer an issue.
Check out some parts Banggood.com sent me to help with the build. I'll be switching out the existing throttle unit for the integrated throttle/power/voltage unit in the video as I have too many wires running about right now.
With the motor secure, wheels mounted I temporarily mounted the controller and took it for a trial run (with the battery and wires on my lap nonetheless!). First impressions… I am impressed. Nice torque, but not ripping fast, but enough that it will spin the wheels once I have the HDPE slip pipes mounted to the rear tires.
Coming Soon:
Final build with battery, controller, wiring and throttle components mounted.
I need to find some HDPE 10″ pipe cuts to make those kart tires slick! Anyone able to help me out, drop me a line please!
parts details