Feb 2014:  If I didn't have enough hobbies already…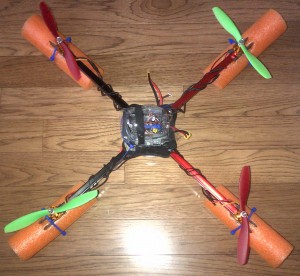 I've just gotten myself into the world of quadcopters and flying.  I've never flown before.  My RC experience is limited to 4 wheels on the ground.    Navigating with 2 sticks and learning the world of yaw, elevation, pitch and throttle has become my next challenge.  I've wanted to learn how to fly for some time, so here we go..   
I'm not going to re-create the wheel as credit goes to the folks over at marginallyclever.com for putting together a great build log of the DIY Betamax Quadcopter.  In a nutshell, for less than $300 you can build a very capable quad that should give you plenty of fun and also provide the ability to mount some small and light equipment.  There's also lots of optional add-ons like GPS that will make the quad smart and more easy to use.  It also uses Arduino-compatible MultiWii which is software that runs on the NanoWii to allow you to control your quad (or other RC machines).