May 2006:
Update: DominoBotNXT has been enhanced. See DominoBot2.
For those who do not know about the Lego Mindstorms Developer Program (MDP), back in January of 2006 Lego was seeking assistance from the Lego community on their next generation Mindstorms product (NXT). Approx 9600 people applied to become one of the 100 MDP's. In late February, I received an invitation to participate and of course jump at the opportunity. For a few months, the group of us were under an NDA (Non-Disclosure Agreement) where we could not talk, show or discuss anything about what we had been working on in the MPD. Now that May 1 has passed, we can now open to discuss some of what we have been up to.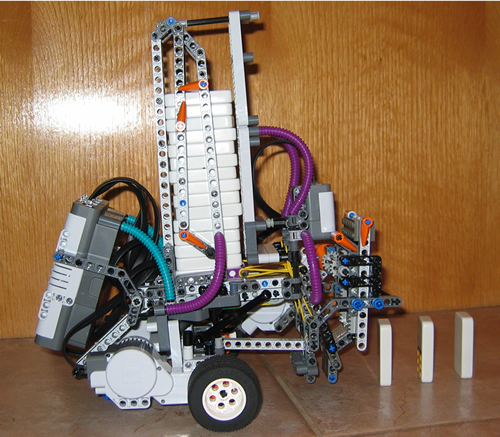 We all had an opportunity to participate in different areas of the testing/development process areas from software to Bluetooth to building robots. Initially, I wanted to get involved in more than one area, but time was limited, so I decided to focus on building only. I wanted to try and re-build my original DominoBot robot to see if I could make a better, more efficient version of it. I also wanted to test the new motors' built-in rotation sensors – as I needed this functionality.