Review – AVAGO – ASMT-LW60 – LED Fibre Optic Strip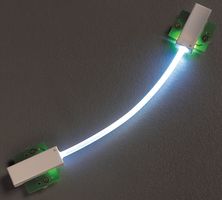 I'd say that LEDs have  been one of the fastest spreading new technologies in the last 10 years.   Consider now that most cars are being manufactured with LED lighting for all the turn/marker/brake/DRL lights.  They have even made an impact with home lighting – even though people are being gouged with inflated pricing (IMHO) from places like Home Depot, Rona, Lowes etc..  This will change as LEDs become mainstream… Just wish I had invested in those companies who first got on the bandwagon!
Anyway, I decided to go away from the typical LED strip and try something new.  The Avago ASMT-LW60's are classified as LED strips, but I am not sure I agree.  They are unique in that they use fibre optics to provide the illumination while a tiny SMD LED is buried inside each end of the light unit.
These little guys are about 15cm in length and the LED emitters are tiny.  They would fit well in tiny spaces.  As I write this, one use came to mind – if you are looking to illuminate things such as car ignition switches, or car AC/heater vents, these would be ideal as you can stick them around the inside as they are small and thin.   What is also nice is the fibre optic flex tube is clear when not illuminated.
In order to use these guys, you can power from one or both sides.   This is easier to do if you wrap them around something circular and both ends meet at the same place – just parallel the connections to 12v and your're done.  However, if you are setting them up in a linear fashion, you will need to run a set of leads to both ends to illuminate both LEDs.
[ad name="GoogleAS728x90ImgOnly"]
Features / Specs:
LED STRIP, 2 LED, WHITE
LED Module Type: Plug & Play
LED Color: White
Power Module Configuration: Strip
Supply Voltage: 12V
Forward Current @ Test: 20mA
Power Rating: 363mW
Operating Temperature Range: -30°C to +60°C
Color: White
RoHS Compliant: Yes
The Good:
These things are cool.  Although I have not come up with a plan yet, I KNOW I will have a use for these at some point.
Each side of the end modules has a tiny hole, so you can string these together in series (the fibre cable part).
Each perf board has solder points for + and – clearly marked.
The light is a nice white light (no blue and no yellow).  Perfect for clear illumination of objects in the dark.
The Not So Good:
They are fagile.  The fibre flex cable came out of one of the end units shortly after I unpacked them.  I know that I must have pulled the two apart, but it was not much force.  The rest of the connections were ok.  I fixed the problem with a little silicon and slipped the fibre cable back into the socket with ease.
At 12v, these little units are not bright – don't go looking to provide oodles of illumination here.  However, they do illuminate the area they are around well enough.
Summary:
I can't wait to use these in something.   Look around my blog and you will see the variety of LED mods I have done to my 12′ Juke.  I am sure these guys will find a place in my car.   There has been a lot of discussion around the lack of lighting for the door window/lock controls on the driver's side.  These units may be a perfect solution for this since you can wind/run them around the innards due to their size and flexibility.  I just have to see if the stock buttons are the types that can be illuminated from behind…   As for pricing, these are about $6.50 USD at the time of writing.  Not bad for a specialized solution.