Review: Newwear Q3 Smartwatch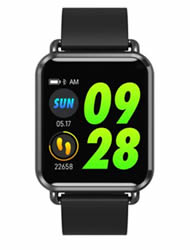 I was recently sent this Newwear OLED Smartwatch from Banggood to try out. It has a number of features including heart rate, sleep, step counter, sedentary reminder etc. Checkout the video below for my thoughts on the watch.
The Good: Nice quality screen, heart rate seems accurate, great battery life (note that screen turns off after preset time).
The Meh: Can barely read the screen in the sun; forced to navigate through all items one-by-one. Would be nice to either remove, or shuffle screen item order.