Outdoor LED Light Controller – Enclosure and Mounting
Over the past 2 years, we have working on our back-yard landscaping project.  We added a patio, stones, a deck etc.  One of the remaining bits was to add LED's to accent the rocks and other areas at night.  After completing my outdoor LED light controller and Andriod app, I found myself struggling to find a way to enclose all the components in something that would protect the controller and power supply from the elements. My original plan was to use the custom CNC enclosure I milled.  However, I found that although it was waterproof, I still needed to consider the power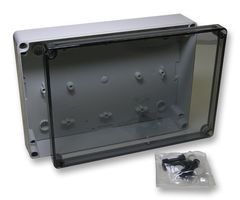 supply. I also changed my mind on how I wanted to connect the various power distribution wiring I had coming from around the back yard.
After a bit of digging around, I came across an enclosure made by Spelsberg from Newark.  The unit is waterproof, easy to work with and has lots of mounting options.  The top cover is smoke, and allows you to see what is inside (gotta show off all the cool electronics and flashing lights you know…), and has a flexible rubber-like strip that provides the water proofing features.  There are 4 mounting holes on the outside and 4 plastic locking screws that secure the top cover to the main unit.
The unit has a unique way of getting it mounted which is quite intuitive.  There are 4 holes that allow you to mount the unit to a surface.  Once mounted, the top cover can be installed with the 4 special black locking screws.  They also ensured that the waterproofing strip is on the inside of the screws so it does not matter if water gets in the screw holes – it simply cannot get inside the enclosure.
 Update: Fall 2014:
I have had this enclosure in the elements for a few months now.  It has been through torrential downpours as well as some near 0 degree C temps.  In general I am satisfied with it's performance.  However, I have noticed some condensation on the inside of the unit.   In fairness to the product, I did drill holes in the side and mount a custom machined cable holder.  However, I sealed it with glue.  It is possible there are some tiny holes that may be allowing moisture in.
 [ad name="GoogleAS728x90ImgOnly"]
Specs:
 

ENCLOSURE, POLYCARBONATE

 

Enclosure Type:

 

Instrument

 

Enclosure Material:

 

Polycarbonate

 

Body Colour:

 

Grey

 

External Height – Imperial:

 

2.48″

 

External Height – Metric:

 

63mm

 

External Width – Imperial:

 

7.09″

 

External Width – Metric:

 

180mm

 

External Depth – Imperial:

 

10″

 

External Depth – Metric:

 

254mm

 

IP Rating:

 

IP66

 

NEMA Rating:

 

12K
The Finished Product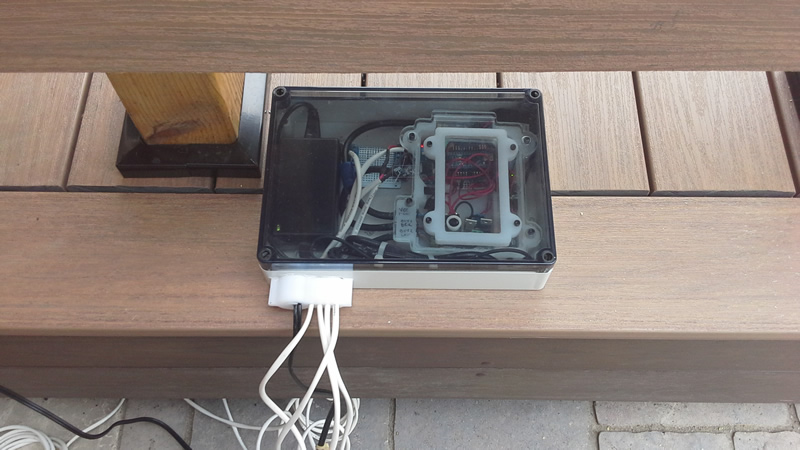 Custom CNC'd Wire Management