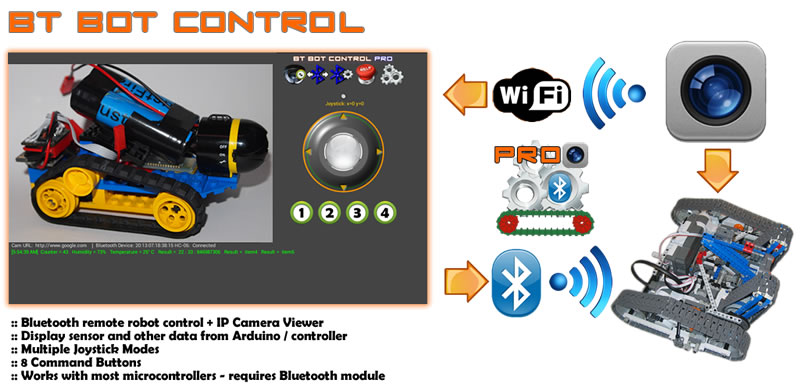 BT Bot Control is an Android application that allows you to remotely control a micro controller-based robot using Bluetooth (i.e. Arduino).  It also allows you to (optionally) view a video stream from an IPCamera mounted to your robot.  This could be any type wireless IP camera or phone that has the ability to broadcast a video stream/images to the web.  Example Foscam, Ai-Cam etc.
BT Bot Control Features:
Can use Joystick via finger movement, or the orientation sensor on your device.  (default is Joystick mode).
Supports 8 individual commands via Command Buttons.   4 on by default. 4 more can be turned on in the Settings section.
Sends the x/y coordinates as positive and negative integers based on 4 quadrants of the joystick.   Data is sent via Bluetooth and can be parsed to set both direction and velocity.  (sample code below)
Coordinates are generated as X+/- and Y +/-. These are packaged and sent in the following format sX=val,Y=vale  i.e. sX=75,Y=-55e  where 's' indicates the start and 'e' indicates the end.
Command button values are packaged and sent in the following format: sC=[val]e  i.e. sC=2e  where 's' is the start,  'c' indicates the a command button as pressed, '2′ is the value and 'e' indicates the end.
Configurable Bluetooth packet send interval – used to set the speed (quantity) of packets sent.  Default of 200ms works well.
Shows video stream of IP Camera mounted to robot. (see FAQ)
Configurable camera URLs. Remembers last camera connection for easy re-connect.
Configurable Bluetooth connections.  Remember last Bluetooth connection for easy re-connect.
Sample Arduino Sketch provided (below).
Screen auto re-sizes for smaller phones.
Supports any micro controller that can parse Bluetooth data (bluetooth module required). 
Should be compatible with other Bluetooth / Arduino modules such as the BLEduino, Arduino Bluetooth Shields the Cortado and many others.    Please drop me a line if you get it working with our BT device and I will update the list.
sample sketch below
Note on Lite version:  The Lite version is a fully functional version.  However, Bluetooth data will be sent as '9′s.  i.e. s9,9e and c9e which will provide you with enough to determine if this app is right for you.  If you like BT Bot Control, the Pro version has full functionality enabled with proper data, and can be yours for less than the price of a coffee.  Also, you won't be pestered by that start-up message either!  We hope you agree that the features and functionality provided are well worth the pocket change.

Note on Bluetooth: The control distance is dependent on a number of factors including; your Bluetooth device range, battery power, obstacles etc.
Download BT Bot Control here:
If you have an feature requests, or suggestions,  please let me know.
Arduino Sample Sketches:
Default Mode Joystick Sample Sketch:  BTBotControl12DefaultModeJoystick

Simple Mode Joystick Sample Sketch:   BTBotControl12SimpleJoystickSample
Note:  For this project, I used a Digispark (Arduino-based micro controller).  This sample sketch is targeted for a Digispark (ATTiny85), but was also tested on an Uno, so it should work for most Arduino's.   If using an ATTiny, remove any Serial.Print statements. Also watch the size of the sketch as there are limitations on the ATTiny85.  
Video:  BT Bot Control In Action
Video:  BT Bot Control Bluetooth Connection Testing
Pictures of the Bot: